Igus is used to recycle used energy chains and other technical plastics but also to purchase recycled plastic material.
Customer feedback on the "Chainge" recycling initiative, which launched in 2019, is so positive that igus is expanding the project.
In the future, a new and unique online platform will make it possible to recycle not only energy chains but other technical plastic components.
The particularity is that customers will also have the option to buy processed material (ground and granulated material) on the platform, which will allow them to obtain everything from the same supplier.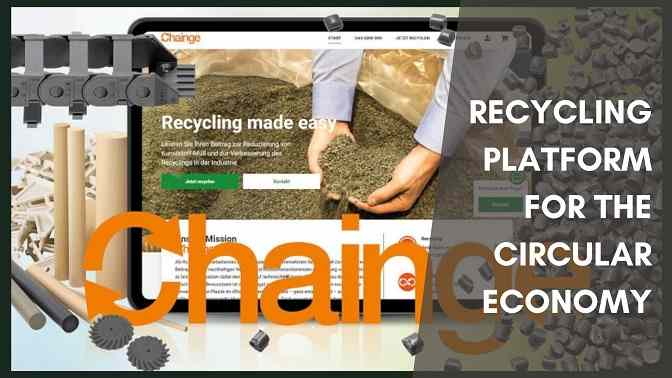 At the end of their useful life, cable chains usually end up as industrial waste, which is why they are incinerated.
Its emissions pollute the environment. igus counteracts this problem with its "Chainge" recycling program, which has been running since 2019.
Customers send used energy chains to Cologne, regardless of their manufacturer. These are granulated for reuse.
In return, customers receive a shopping voucher. According to Michael Blass, Director of igus e-chain systems, "what started as a small idea has quickly gained momentum.
Since the start of "Chainge", they have already collected and recycled more than 60 tons of high-performance plastics.
Half of that figure corresponds to 2022. This good reception has motivated us to think even more about recycling.
To accelerate the transformation towards a circular economy, we will start to include in the recycling program not only energy chains but also other components made of technical plastics."
An online platform that makes recycling even easier worldwide
To speed up the recycling process, in October 2022 igus launched the new online platform "Chainge", a space where owners of used plastic parts such as machining bars and gears can request the recycling of their components and obtain recycling vouchers. purchase to acquire new igus products.
As part of the "Chainge" expansion, igus will include more locations in the program and further expand its recycling network.
"Our recycling will no longer be limited to our headquarters in Cologne but can take place all over the world. These additional capabilities will allow us to further contribute to the circular economy," says Blass.
The platform will also sell re-granulate, which until now was only used internally in injection processes.
Blass says: In this way, customers around the world can now also easily buy processed material from which new high-quality plastic components are created."
That led to the world's first cable chain made entirely of recycled material, which was also developed in 2022.
Related Post